I love forest life.
Which is probably why I live in a forest. Don't get me wrong, I love cacti and I have been in love with the desert since a very young age. The beauty and diversity of xeric life is something that draws me back repeatedly. A desert environment is too harsh for me to want to spend a lot of time as my body apparently requires more moisture.
Accordingly, after spending the preceeding 27 years living in central Texas, a decade or so ago it was the right time to move and, after landing in the East Bay, I finally found home in a secondary regrowth redwood forest that is part of a Pacific NW coastal temperate rainforest.
This land is an overgrown mixture of douglas-fir, tanoak, redwood, madrone, chinkapin, california nutmeg, maple, assorted oak species, several ceanothus, dog-wood, hazelnuts, wild blueberries, western huckleberries and pink-flowered currants on rough and sloping terrain discouraging development and encouraging the build up of tree litter and assorted plant decay. In short, this part of Mendocino County is a fungus lover's dream. There are some challenges for living in a rural location in a rugged forest but it is very well worth any effort.
To balance my love of cacti and the desert it seemed like a nice idea to add a page about something moist and sometimes soft and green. Forest life often fits that description. It is also quite dynamic and fascinating.
Images
I started this out with a view of some of what has fruited since it began raining the winter of 2014–2015. I'll keep making edits to this page and creating new posts whenever enough new things worth adding are in-hand.
Image-only posts are all being backdated to 2010. My intention is to eventually capture as many of the different forms of life here as becomes possible throughout the seasons.

This zeller's bolete was perhaps the best dressed mushroom of the season.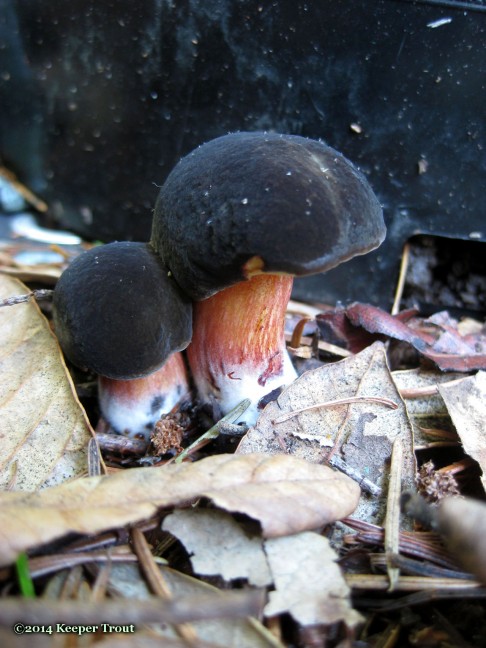 Many slime molds live here.
Protista
Babesia duncani
formerly Babesia WA-1
(organized alphabetically by binomial)
Anagallis arvensis
Scarlet pimpernell
A lot of cool animals live here. The photo page shows a tiny fraction.
Getting photographs for most of them is a real challenge.