I love forest life.
Which is probably why I live in a forest. Don't get me wrong, I love cacti and I have been in love with the desert since a very young age. The beauty and diversity of xeric life is something that draws me back repeatedly. A desert environment is too harsh for me to want to spend a lot of time as my body apparently requires more moisture.
Accordingly, after spending the preceeding 27 years living in central Texas, a decade or so ago it was the right time to move and, after landing in the East Bay, I finally found home in a secondary regrowth redwood forest that is part of a Pacific NW coastal temperate rainforest.
This land is an overgrown mixture of douglas-fir, tanoak, redwood, madrone, chinkapin, california nutmeg, maple, assorted oak species, several ceanothus, dog-wood, hazelnuts, wild blueberries, western huckleberries and pink-flowered currants on rough and sloping terrain discouraging development and encouraging the build up of tree litter and assorted plant decay. In short, this part of Mendocino County is a fungus lover's dream. There are some challenges for living in a rural location in a rugged forest but it is very well worth any effort.
To balance my love of cacti and the desert it seemed like a nice idea to add a page about something moist and sometimes soft and green. Forest life often fits that description. It is also quite dynamic and fascinating.
I started this out with a view of some of what has fruited since it began raining this winter (2014-2015). I'll keep making edits to this page and creating new posts whenever enough new things worth adding are in-hand. At some point it will need to be divided into several categories to get the loading time down.
Image-only posts are all being backdated to 2010. My intention is to eventually capture as many of the different forms of life here as becomes possible throughout the seasons.

Fungi
This zeller's bolete was perhaps the best dressed mushroom of the season.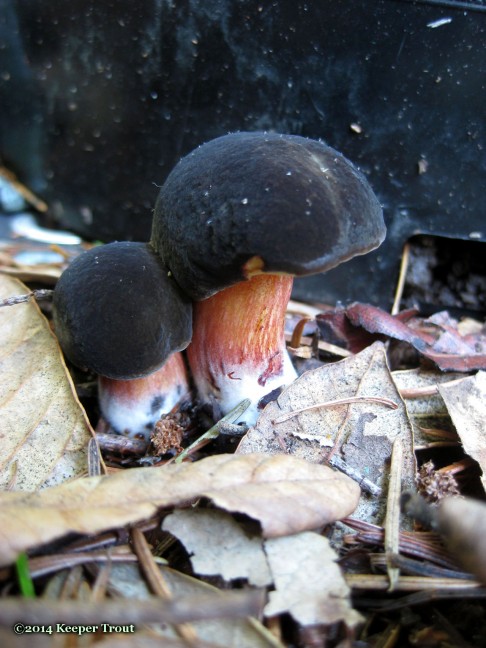 Although, sometimes earthtones, like this Prince Agaricus, have their own appeal.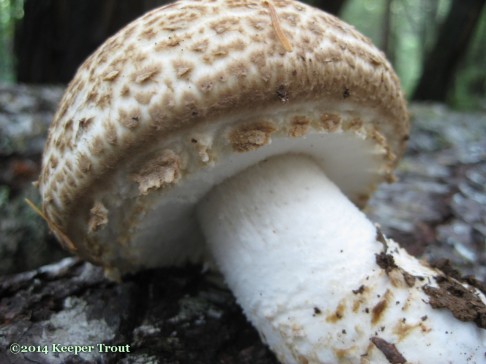 Matsutakes have been fruiting!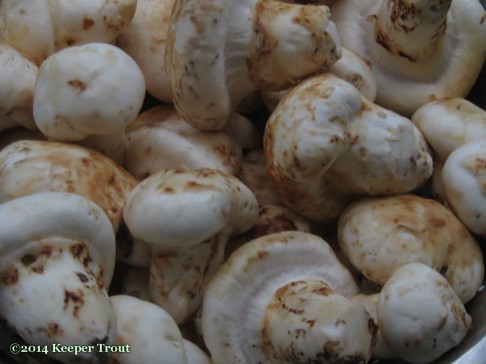 Amanita calyptroderma is having an OK year, not as good as many but they were still out in abundance. 
These next ones on the other hand are easy and foolproof.
This magnificent lion's mane somehow was overlooked for much longer than would be normal.
Coralloides always reminds me of something from the ocean. It might be my favorite mushroom, bar none, but if I'm not careful during harvesting and foraging they sure are a lot of work to clean.
More:
Barrsia oregonense
This is an edible truffle that is associated with doug-fir.
an earth-star:
Daldinia concentrica
Carbon balls
Many slime molds live here.
Protista
Babesia duncani
formerly Babesia WA-1
Plants
(organized alphabetically by binomial)
Anagallis arvensis
Scarlet pimpernell
Anisocarpus madioides
Woodland maddia
Asarum hartwegii
Hartweg's wild ginger or Wild ginger
This species occurs only farther north and east of here but it flowers this time of year.
Cardamine californica var. integrifolia
Coast milkmaids
Calochortus species
The Mariposa lillies
There are many different species of these in California and a couple of them live near here.
Calypso bulbosa
Calypso orchids
Cichorium intybus
Common chicory
Claytonia perfoliata subsp. perfoliata
Miner's lettuce
Corallorhiza maculata
Spotted coralroot orchid
Cynoglossum grande
Hound's-tongue
Dudleya cymosa
Canyon live-forever
Eriophyllum ambiguum
Beautiful Woollysunflower
Erythronium californicum
Trout lilly or California fawn-illy
Eschscholzia californica
California poppy
Fragaria vesca
Wild strawberry
Genista monspessulana
French broom
Hypericum perforatum
Common St. Johnswort or Klamath Weed
Iris douglasiana
Coast Iris or Douglas' Iris
Iris fernaldii
another local wild iris

Iris purdyi
another local wild iris

natural Wild Iris Hybrids are very common.
This bearded Iris is not a native Iris species
Lathyrus vestitus var. vestitus
Woodland pea
Lupinus bicolor
Miniature Lupine
Maianthemum racemosum ssp. racemosum
False Solomon Seal
Mimulus aurantiacus
Sticky Monkey Flower
Monardella purpurea
Siskiyou monardella, serpentine monardella & Serpentine Coyote Mint
Pelargonium sp.
some sort of wild Geranium
 Piperia unalascendis
Alaska rein orchid
Pleuricospora fimbriolata
"fringed pine-saps"
I've only seen this mycoparasitic species one time (deer ate this one within a few minutes of being photographed).
Polygonum californica
California milkwort
Pseudotsuga menziesii
Douglas-fir
We only rarely get snow here unless counting this annual pollen fall from this plant.
Pyrola asarifolia subsp. bracteata
Pink wintergreen
Is just beginning to flower.
Pyrola picta
White-veined wintergreen
Is also just beginning at the end of May and will be flowering as we move into June.
Rhus diversiloba
 Poison oak
This is an underappreciated beauty.
The north has maples for Fall color; we have poison oak — starting in late Summer.
another image from earlier
‪
Ribes sangineum var. glutinosa
Pink-Flowered Currant

Rosa californica
California Wild Rose
Silene laciniata ssp. californica‬
California Indian Pinks
Spartium junceum
Spanish broom
Tanacetum parthenium
Feverfew
Tolpis barbata
European Umbrella Milkwort
Trientalis latifolia
Pacific Starflower
Trifolium hirtum
Rose clover
Along the nearest road.
Trifolium incarnatum
Crimson clover
Along the nearest road.
Trillium ovatum
Pacific Trillium
Triteleia laxa
Ithuriel's spear
Veronica persica
Birdseye Speedwell
Whipplea modesta
Yerba del Selva
Animals
A lot of cool animals live here. This is a tiny fraction.
Getting photographs for most of them is a real challenge.
Ariolimax columbianus
Pacific Banana Slug
Monadenia infumata
Redwood Sideband

Camponotus sp.
Carpenter ants
Camponotus modoc
Western black carpenter ants
Monochamus scutellatus
Spotted pine sawyer
Peltis pippingskoeldi
A bark beetle
Platyceroides agassii
One of the many Scarab beetles
Prionus californicus
California root borer
Timema douglasi
A parthenogenic doug-fir specialist that is said to be the smallest walking stick insect.
Zarhipis integripennis
Western Banded Glowworm
Unidentified bug with a Piptoporus betulinus
Pseudoscorpion
MAYBE Lithobius forficatus
A Stone Centipede
Harpaphe sp.
Almond-scented millipede
Paeromopus angusticeps buttensis
 Xystocheir dissecta
Redwood Xystocherini
Titiotus sp.
An endemic genus of spiders
Araneus gemma
Cat-faced spider
Uroctonus mordax
Forest scorpion
Ticks
It is almost impossible to go out during mild weather and not pick up a tick in the forest or meadows around here.

Ixodes pacificus
Black-legged tick
This is the business end of one thing about the forest that really sucks, ticks.
These were abundant and especially active during May-June 2015. It has been almost impossible to go out during mild weather and not pick up a tick in the forest or meadows around here right now.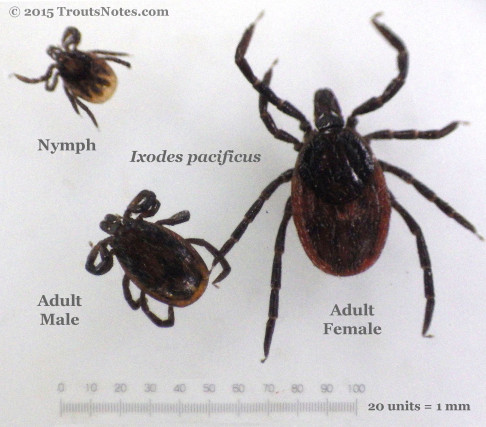 Vaejovis puritanus
One of several scorpions that live here; species ID may or may not be right. This is an older picture of something that we only very rarely encounter.
Batrachoseps  attenuatus
 California Slender Salamander
Dicamptodon ensatus
 California Giant Salamander
Aneides flavipunctatus flavipunctatus
Speckled-black salamander
Some of these are solid black and some are speckled with yellow.
Taricha granulosa granulosa
Rough-skinned newt

Acris crepitans
Pacific chorus frog
Bufo boreas
Forest toad
Diadophis punctatus occidentalis
Northwestern Ring-necked Snake
Lampropeltis getula californiae
California king-snake
Pituophis catenifer catenifer
Pacific gopher snake

The next individual was not seen here at home but was encountered while visiting the Shulgin farm.

Thamnophis atratus hydrophilus
Oregon Gartersnake
Thamnophis sirtalis infernalis
California Red-sided Gartersnake
Plestiodon skiltonianus skiltonianus
Elgaria spp.
Alligator lizard

Sceloporus occidentalis
Western fence lizard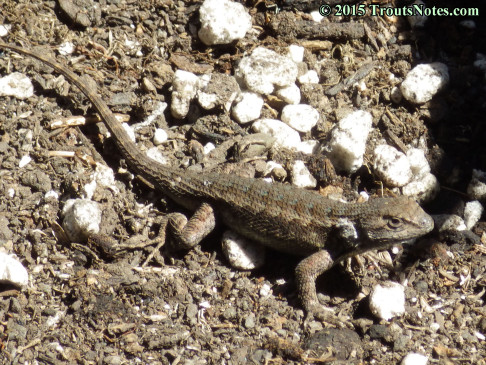 Corvus corax
Common raven
This image was taken a few miles from home in Ukiah but these live and nest here on site.
Meleagris gallopavo
Wild turkeys
This is a conservationist success story. This bird species nearly went extinct due to overhunting. Reintroduction activity (largely through redistribution of existing birds)  lead to a huge rebound of the population including in many areas where it did not formerly exist. It is so common now that most people have no idea that it almost disappeared from the planet.
Melanerpes formicivorus
Acorn woodpeckers
Myotis sp.
Bats
Urocyon cinereoargentus
Grey fox
Mephitis mephitis
striped skunk
Mephitis mephitis (striped skunk) &  Didelphis virginiana (Virginia Opossum)
Spilogale gracilis
Western Spotted skunk
Neotoma fuscipes
Dusky-footed woodrat AKA Pack-rat
Sciurus griseus
Western grey squirrel
Odocoileus virginianus
Whitetail deer