A representative few of the many interesting Trichocereus pachanoi or pachanoid offerings that are present in horticulture.
Trichocereus aff. huanucoensis
  This specimen is missing its accession data but is suspected by Jon Trager of being grown from seeds provided to the Huntington by Harry Johnson. 
Trichocereus huanucoensis
  The next image is of another pachanoid plant at the Huntington. It was grown from seeds provided to them by Harry Johnson.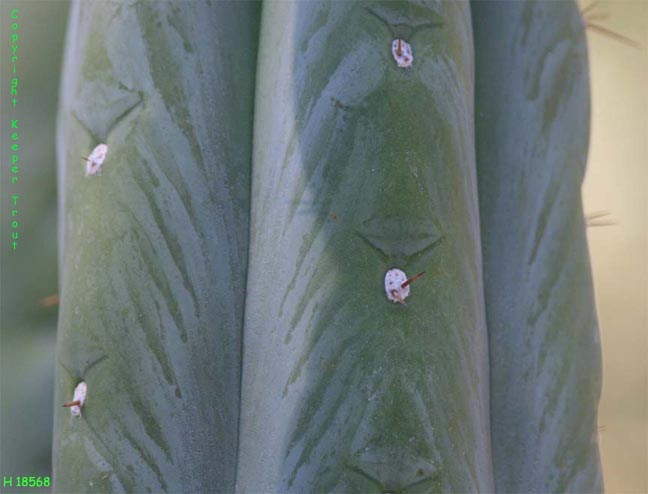 The image below is of a plant of Trichocereus huanucoensis at UC.
   This too was grown from seeds provided to them by Harry Johnson.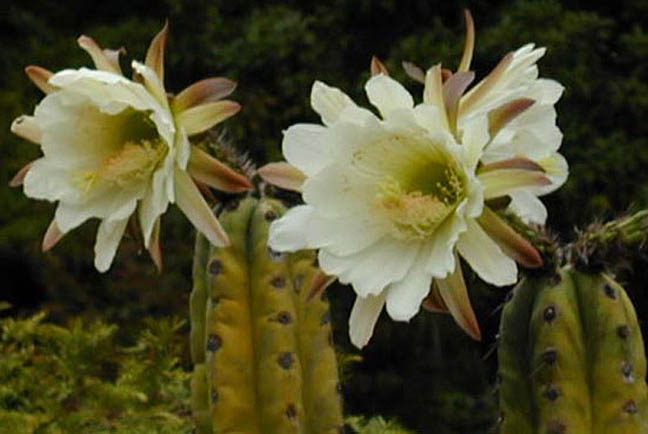 Trichocereus pachanoi cv. Juul's Giant
  The cutting shown below was harvested directly from a plant in Tom Juul's backyard garden in San Francisco. No origin data exists but it is suspected of originating on one of the UC cactus collection expeditions but losing its collection data during transportation. These amazingly productive expeditions were cancelled due to criticism that it was inappropriate for an academic institution and commercial cactus vendors to be engaging in co-ventures (as opposed to the spectrum of other academic-commercial co-ventures that exist at UC outside of the world of cactus collecting.)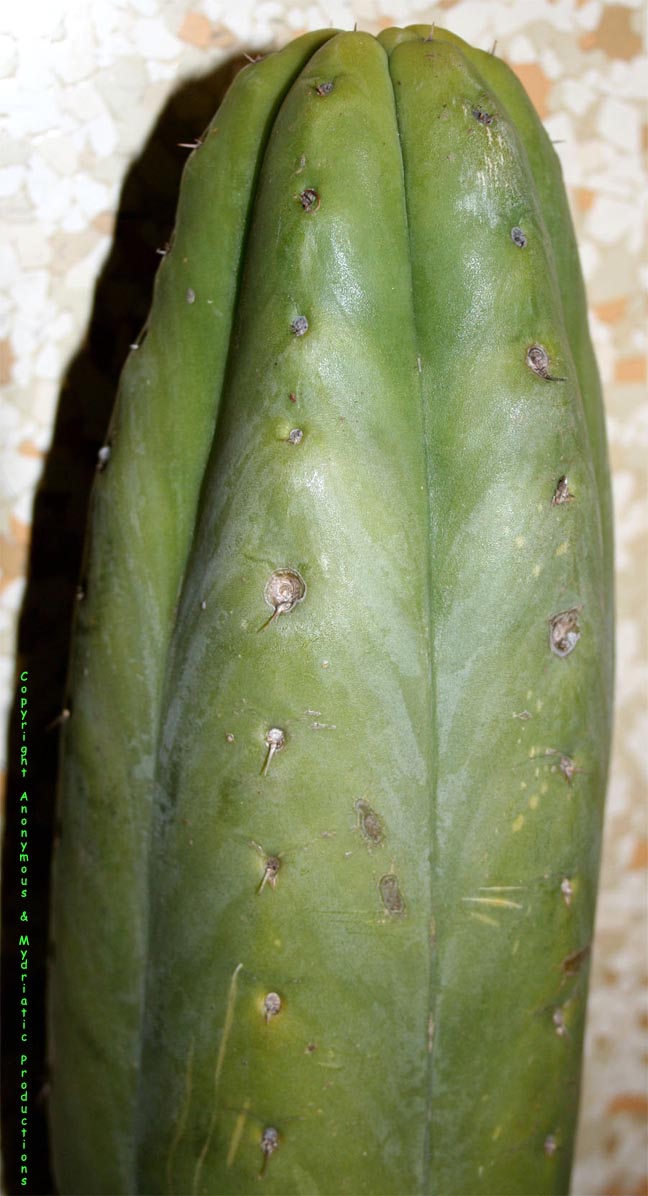 Trichocerus "peruvianus" Huancabamba (on the left – sp. Peru 64.0762 is to its right and behind it.)
  This entered horticulture via seeds collected in Peru during the 1960s by Dick Van Geest and sold through Mesa Garden over the course of many years. It is variable in appearance but is clearly far more a pachanoi than a peruvianoid.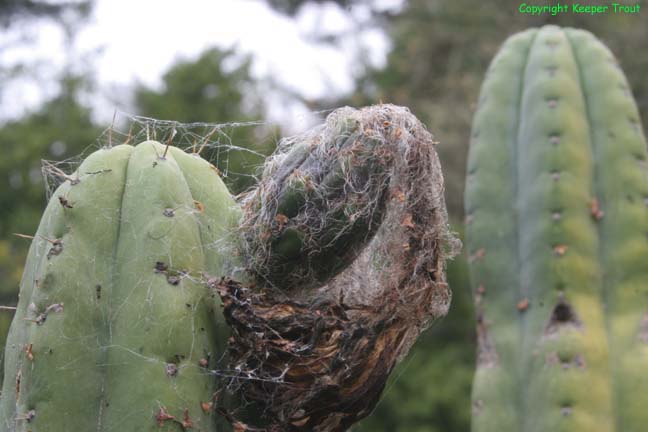 There is also some different material that
Paul Hutchison collected as live cuttings from Huancabamba. 
Trichocereus scopulicola
  This Ritter species is currently believed to be extinct in the wild. Or at least several sets of people have been unable to locate it including botanists searching on behalf of the Kew prior to the publication of Hunt's New Cactus Lexicon. It is suspected of having been extirpated by freely wandering goats, as is the case for a number of cactus species.
  Seed-grown in England.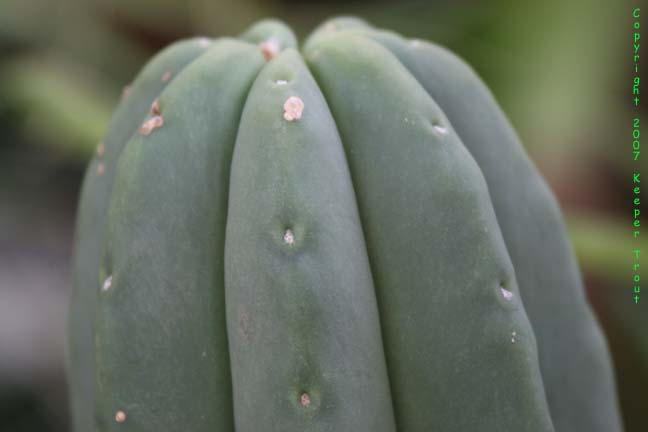 Seed-grown in Oz.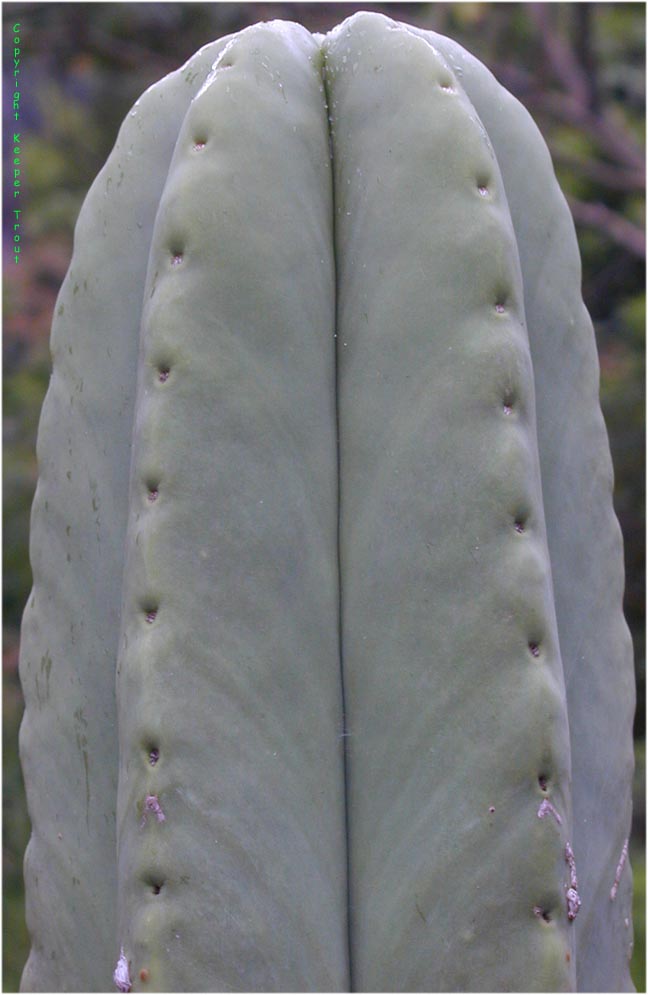 Seed-grown in USA (NMCR).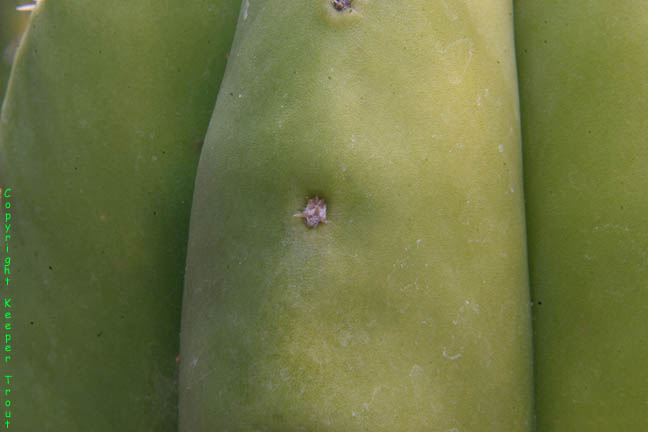 Trichocereus pachanoi
  Collected in the 1960s in Huamachuco Prov., La Libertad Dept., Peru.
Paul C. Hutchison, J. K. Wright & R.M. Straw 6212
  (UC Peru 64.0762)
This fat pachanoid specimen is no longer present in UC's desert garden. The last time I saw it there the plant was suffering badly from heavy predation and the rot produced from careless and badly timed harvesting. This plant has been regularly sold via their annual plant sale so it is a tragic loss to all visitors to that garden.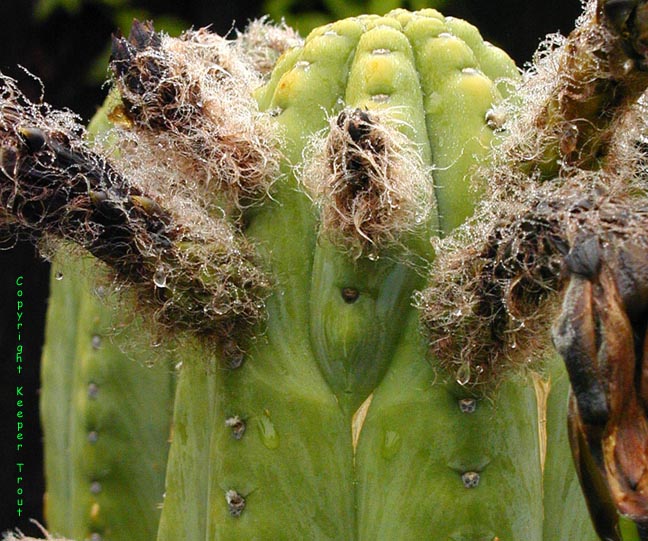 Trichocereus pachanoi
   Collected in the 1960s in Bongara Prov., Peru Paul C. Hutchison & Jerry K. Wright 4013
   (UC Peru 65.0729)
More recently this plant had its name tag changed to Echinopsis macrogona and, strangely, was given a new accession number and date. The plant itself, however, has not changed.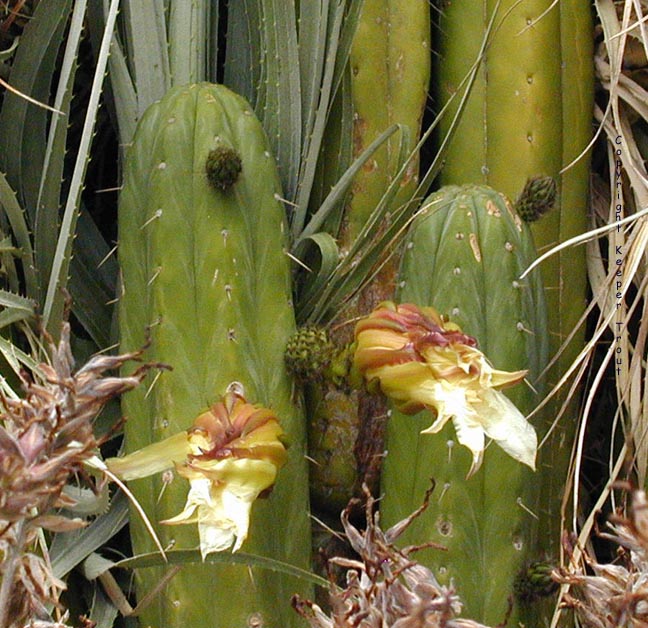 Trichocereus pachanoi Strybig
  I was told by the Strybig's staff that this was obtained from UC. The most plausible candidate would seem to be  Peru 65.0729. However, that plant from UC has been demonstrated to show an interesting spiralling desiccation of its flowers that seems to be transferred through its progeny. The Strybig's does not appear to have this feature. Whether that is enough to make them different or if they are one and the same remains to be proven through study.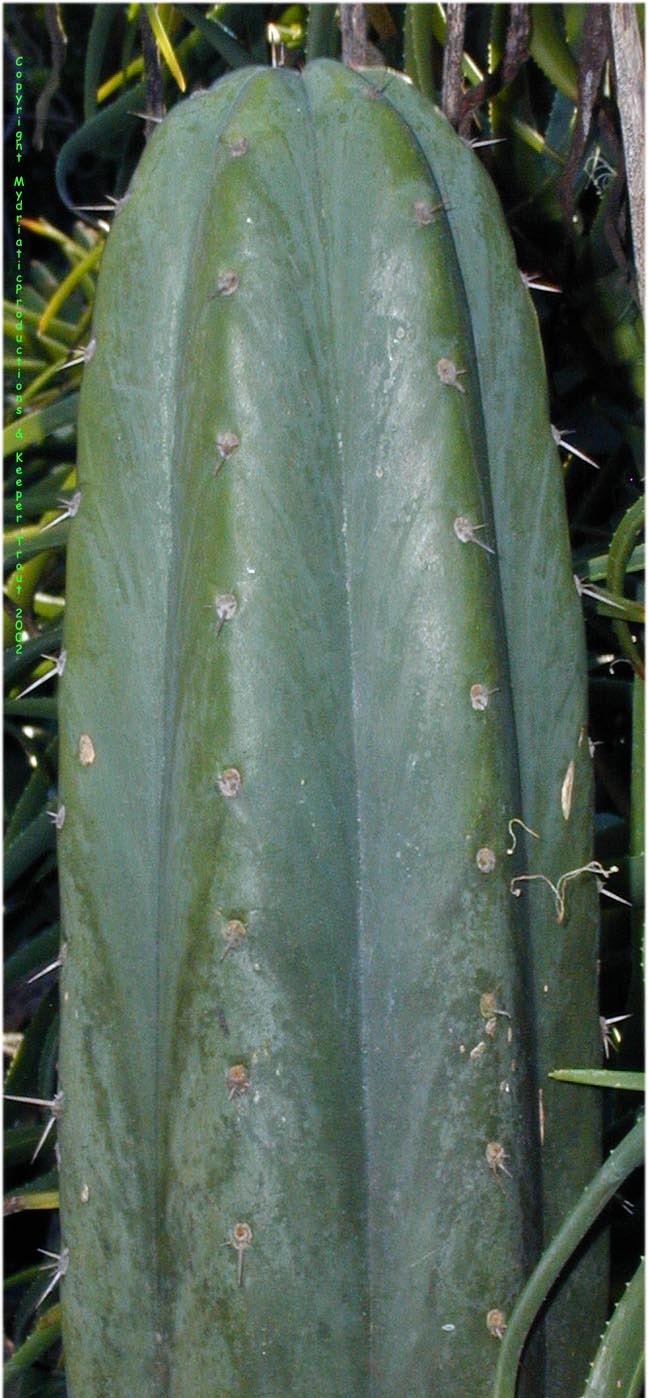 The same lineage growing in a commercial cactus grower's operation.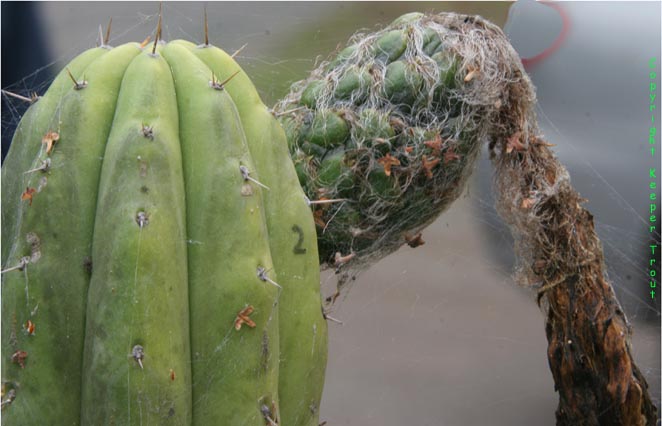 Trichocereus pachanoi R. Montgomery; Peru
   I presently lack any additional data concerning what was said to be a field collection acquired in Peru many years ago.
Trichocereus pachanoi Torres & Torres; N. Chile
   This came from what was believed to be a wild collection made by M & D Torres at fairly high altitude in northern Chile.  It appeared to be a wild plant which, if true, would extend the range of Trichocereus pachanoi into that country.
(This is the plant that provided material for the article "San Pedro in a Pressure Pot".)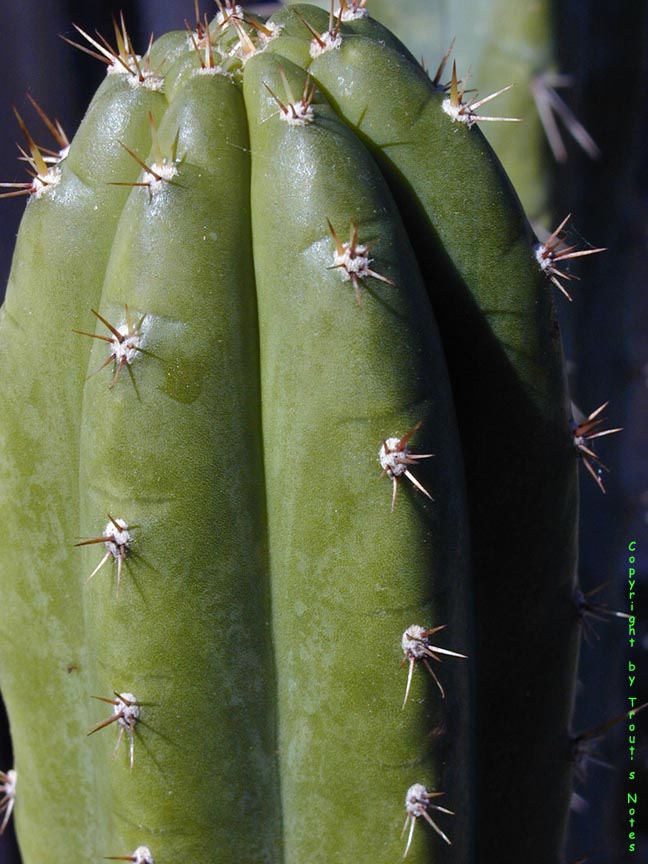 Use your back button to return.
Or to go to:
Additional material to ponder: 

Copyright © by Keeper Trout